This is the first time I have taken any top down pics.. I am going to try to get a clear glass bowl or pan to use next time. These are in my 4 month old zeo tank under 4-400 watt 20k xm bulbs. No actinics.
This frag came in about 10 weeks ago white, bleached and pretty much a gonger. I placed it in the tank anyways and kind of forgot about it. 4-5 weeks ago I was rearranging some corlas. I stumbled across this. Its close to the lights 12" away. This is what it has turned into over the past 10 weeks.
Here is a nana frag I got from dog boy dave about 4 weeks ago. Its about 14" under the lights.
<
Here is a digi I got from Freed about 10-11 weeks ago. It has become a nice reddish for me about 20" from the lights.
Here is also a purple digi I got from Freed at the same time. He has nice frags by the way. This is about 12-14" under the 400's.
Here is my RBTA with my clowns..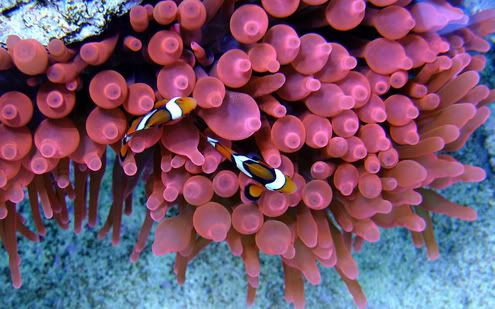 here is a green with green polyp cap I got about 2 weeks ago. Not from the top but still nice pic.
Here is one of my torts. Again not top down.
Here is the last top down I have for now.
Peace, Jeff