Well guys i figure its about time i post some pics, sorry got the quality, still learning the camera (way to may features).
anyhow i first want to thank John B once again for the great vist i paid his this past sunday. as most of you know he did some thinnning of his reef and i was lucky enough to get the stuff he didnt want. thanks again John, everything is settling in nice, i hope that tri-color makes it.
anyhow i have been on zeo for about 3 1/2 months now and love it! i just dosed spur2 2 days ago, but have not seen any lighting of my corals i think i am going to go for 4ml next time.
i have 2 large colonies coming tomorrow from RM that i will post pics of also.
anyhow this is my 180 gallon SPS tank. i have about 200 gallons net.
this tank will be all SPS with some rics and zoos if my majestic angel lets me add them.
anyhow enough talking here are the pics! (dont mind the sand in the front, with 4 6100s in there sand gets blown everywhere, haha)
first ones are shots of the coral i picked up this weekend from John,
this is his large 6-7" LJ purple tip,
next is a nice tri-color, John was having some trouble with it starting to RTN, hopefully it will pull around for me, its a great coral with nice neon green polyps,
close up,
next is a wild millie that John has had, its tough to get a nice shot, it has red and blue to it, so its tough to capture the true color,
next is the blue polyp digi that John had, i couldnt get a good upclose pic of the blue polyps,
next is a purple digi again hard to get the true colors,
next is the HUGE slimer i picked up off John, this thing was massive, we had to break it in 2 inorder for me to bring it home!
next are the stags i picked up off of John, there are beauties,
and
then is this nice yellow/green millie that i got from John, this thing is HUGE and HAIRY!
next is a pic of where all my stags are sort of a stag island,
next is my Tort that John acidentally broke off, he was pissed about it and i was happy, haha its about 3" and it glows!
next is a nice aquacultured i picked up locally off Murph that has turned into a beauty
now come the full tank shots, remeber its young and i am adding corals slowly here. the 2 from RM are big so they will take up some room, i am trying to put corals next to eachother that are across eachother on the color wheel, you know so they stand out better.
heres a side shot, pardon the fish i tried to keep them out of the photos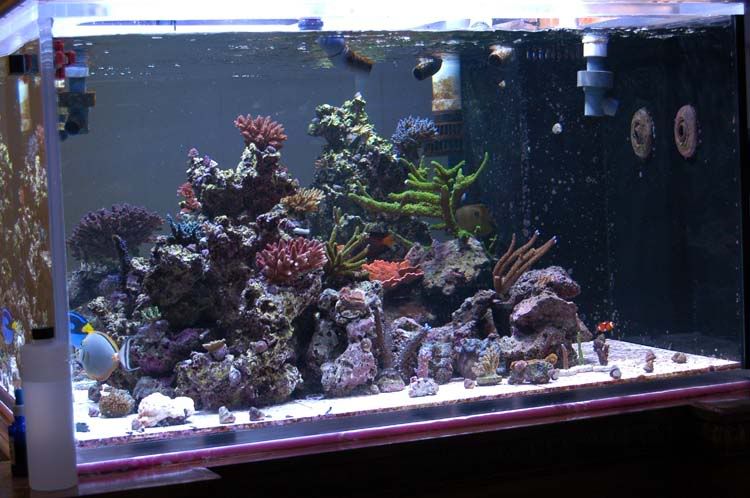 next are 2 full tank shots,
and
if you guys have any questions or want pics of any specific let me know and i will be happy to ablige.
hope you enjoy!
Nick