I have a few things going on right now, so if everything goes as planned then the wife has given me the Ok on the last tank. She said 1 more, I have went through more tanks in the last 2 years then most people do in a lifetime, so she said make it as big as I want so I wont get mad and want bigger. Wow is she going to hate that statement lol. I am going to build on a 15x20 addition to my home for this tank only. It will be a full working fish room, this will be an in wall tank. Total size will be around 1600 to 1700 gallons, with the show tank being 1000 to 1250 gallons.
Here are the 2 possible dimensions. It will be built on site from Will @ Aquarium Obsessed. He is nice enough to bring it to me, and build it onsite, there is no way to ship a tank this large and if it were possible I would guess multiple thousands! Talk about customer support! <o ="">
Starfire on 3 sides, External overflow the length of the back. This will be built on an steel frame, then powder coated, it will be built in 3 pieces so I can move it and also get it into the room! It will be over built so I can walk around the tank. It will be bare bottom with only a few holes drilled, I will run 2 closed loops with the Red Dragon 12m3's to start, and if I need more flow, I will add another 12m3. I will have him drill 2 holes for that, and run the returns over the top, in my mind, the less number of holes on this size tank the better off I will be! After spending the weekend with Brian at fins reef he suggested some Tunze 6200, so I am thinking about 4 of them to start. I don't want a ton of water through the sump, max of 3 to 4 times turnover. I want the flow in the tank, and give the skimmer as much surface time as possible. And of course this will be a total ZEOvit tank from day 1. I will run 2 x 6 liter zeovit reactors. This tank is going to be as efficient as I can get it. Only using Red Dragon pumps, a smaller Eheim pump for the Calcium Reactor, and using gravity for the Bubble King, and 4 tunze streams for a total of less then 422 watts, I don't think I can get away with less. I figure on
200 watts for the tunze streams
174 watts for the 3 Rd's
48-50 for the Eheim pump for the reactor.
<o ="">
And with lighting I will use Electronic Ballasts and SE bulbs with the help of the skylights.<o ="">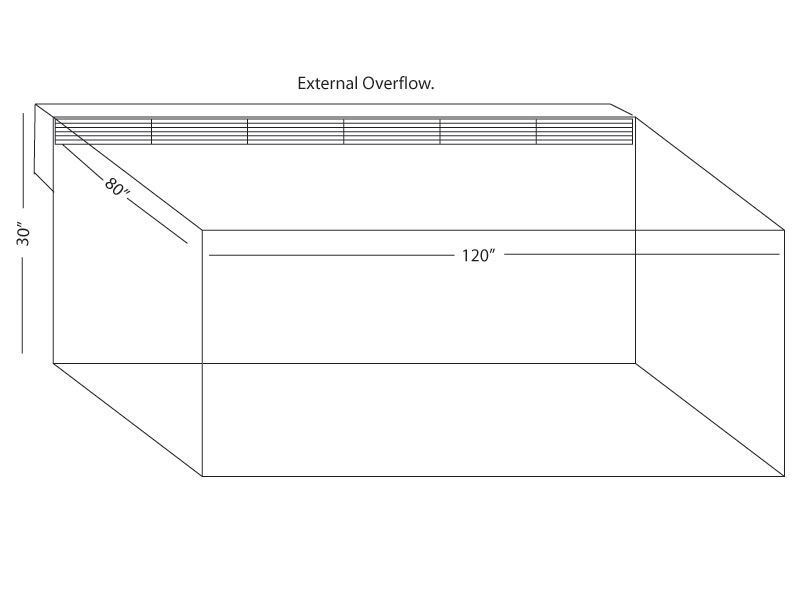 <o ="">
120x80x24 10 feet x 6.6 feet x 2 feet
3776 liters/ 998.94 gallons<o =""></o>
Or<o ="">
120x80x30 10 feet x 6.6 feet x 2.5 feet
4719 liters/ 1248.41 gallons
<u1 ="">I would like ideas for sump size for both sizes, but I am 99.9% sure I am going to go with the 120x80x30.<o ="">
I will be using the BK 400 I already have to start, and may end up going with the 500 or 650, like I said this is my last tank I am going to buy for a very long time! And after talking with Alexander, I will probably go with the 500, the 650 is just overkill and since the BK's are so efficient at skimming, I don't want to take out anything good from the tank.<u1 ="">
I have the Aquatronica and everything that goes with it already. <o ="">
So what I really need is lighting suggestions (monopod your thoughts too please). I will use a light rail for sure with this. I may also add some skylights to help with this and also get some natural sunlight into the room.
<o ="">
Sump size. I am thinking around 400-500 gallons to help keep the water cooler without the help of the chiller being on so darn much.
<o ="">
Calcium Reactor thinking I will use HKR 200 calcium-reactor incl. gas reduction chamber good for 4000 gallons. The one smaller is good for 1200 gallons or so, so I want to make sure I have enough for it.
<o ="">
Chiller size, keep in mind if needed I can have a 220 for the room to help with the lighting and chiller. The RD will be 110v or 60Hz so I will have both in the room.
Thanks guys I hope this dream becomes a reality very soon for my and my family.. Ok really its for me, my wife loves tanks, but she doesnt care if its 20 gallons or 20,000 gallons.. So I hope 1700 gallons or so will keep me happy for many years to come!
scott</o></o></o></o></u1></o></u1></o></o></o></o></o>