Hello All,
Now that I have begun to accumulate a fair number of SPS (both frags and colonies), I think it's only fair to the corals that they receive the best of care, which means it's finally time for me to go ZEO, naturally
. Although I am familiar with a few of the products/methods, any advice from the experts would be greatly appreciated. To help you guys out, here my answers to Invincible's suggested Qs in
this
thread.
I should also note that I am in the process of planning/setting up a new cube tank, which will house only SPS and LPS, but since it wont be set up for awhile, I want to get the hang of the ZEO system beforehand.
1. Gross water volume –
50 gallons
2. Net water volume -
approx. 30 gallons
3. CaCO2 reactor –
Not in this tank (will in new one); please see below for means of Ca and alk maintenance.
4. PO4 reactor -
No
5. Ozone -
No
6. UV -
No
7. skimmer –
Aqua Medic Turboflotor Multi; rated for 250g.
8. PO4 and NO3 levels -
PO4 = undetectable, but I do believe it's present due to algae growth; NO3 = also undetectable.
9. Ca, Alk and Mg levels –
Ca = 420+, KH = ~8 (hard to maintain w/ Oceanic salt); Mg = honestly, not sure.
10. filtration method -
skimmer, LR, carbon, Purigen; had a refugium (when it was removed, the algae problems began).
11. Type of light -
One 175w 13k AB MH, Two 95w Super Blue URI actinic bulbs (total 110w VHO).
12. What corals do you keep –
Mostly SPS and LPS; some softies. Also a huge long tentacle anemone and a few fish (skunk clown pair, royal gramma, anthias, and mandarin...all have been in the tank for atleast a year; the mandarin and clowns even more).
13. Tissue color –
[I'm assuming on SPS] All ranges--I have acquired corals that have become both, and neither occurrence is more prominent (but LPS usually deepen in color).
14. How long has the tank been running -
over 2 years.
15. Why do you want to use the ZEOvit system -
For increased health/color of my corals via nutrient reduction.
16. Any supplemental dosing -
currently I dose Seachem's Reef Builder for alk and Reef Advantage Calcium for Ca maintenance, although I rarely use the latter as the Oceanic salt seems to provide plenty. I have a tough time keeping my alk in check, so I do go through a good amount of buffer to keep it up. I also wonder if the low alk in Oceanic has helped to contribute to the recent algae growth (which othe users of this salt brand have experienced).
17. Live rock -
About 40-60 lbs; most is over 2 years old; other pieces have been added gradually over time.
18. Any present problems -
As stated before, algae has begun to accumulate, and I am fighting to keep the alk up (my #1 reason for using a CaCO2 reactor for next tank).
19. Problem description -
Just hair algae; I notice the growth on the back wall and sand bed (which is about 1" of "fine" aragonite, BTW). In general, SPS do OK...not super, but there is obvious growth on almost all, which include acros, montis, etc.
20. What test kit -
Seachem; fairly new (I work at a LFS, and we go through the kits pretty fast due to offering free water tests).
21. Present dosing, amounts and intervals -
This is my reason for posting.
22. Other water parameters -
SG = 1.025 (constant); temp = 79-82F; PH = 8.2-8.3; all other levels stable.
I hope this helps. Also, below is a pic of the tank (as of 9-12-05) so you can know what you're dealing with. Unfortunately, the only recent one I have is actinic only, but I will shoot one with full lighting tomorrow.
(Please excuse the quality. Pic was not edited - blue removed via AWB on camera)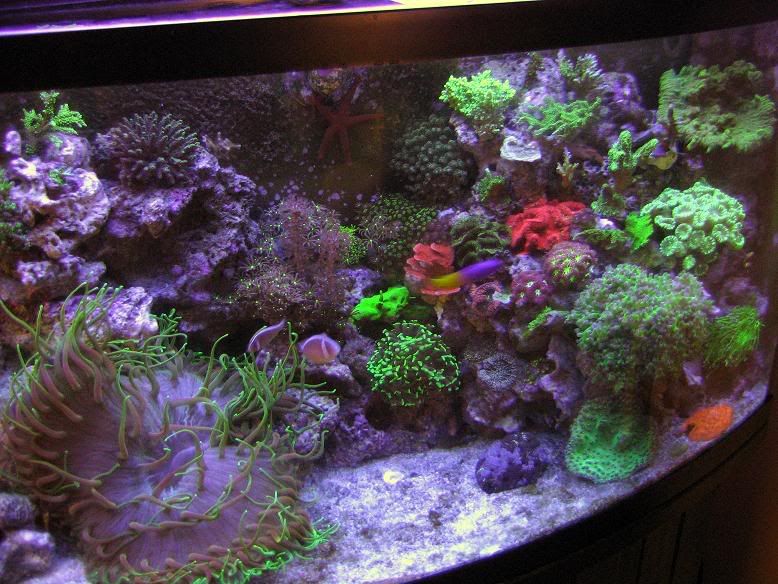 So, I guess my main question is which products do you recommend I use initially? I do plan to purchase a Zeo reactor as well.
Much thanks,
Kayla