From the IKS Website
http://www.iks-aqua.com/html/engl/foerderpumpen.php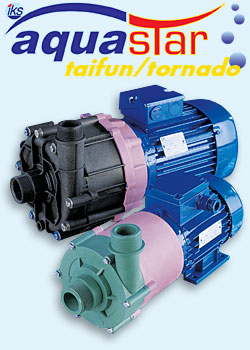 Name Q max l/h H (m) Load at H max
2230 taifun 7000(a) 7000 9 140 W
2231 taifun 9400 (b) 9400 11 150 W
2232 taifun 12500 (c) 12500 11 160 W
2233 tornado S-17 (d) 17000 12 350 W
2234 tornado S-19 (e) 19000 15 450 W
2235 tornado S-25 (f) 25000 18 600 W
2236 tornado S-26 (g) 26000 24 750 W
2237 tornado S-30 (h) 30000 27 900 W
Magnetic-coupling high-performance feed pumps
With these pumps you'll want no other! Guaranteed!
The pumps in the tornado S series are safe to run dry
Hermetically sealed without without a floating ring seal
Extremely quiet
Higher pressures and greater feed volumes than conventional pump systems
Highly efficient, cutting energy costs and ambient warming
Specially designed for professional applications in seawater aquariums and garten ponds
Anyone have these bad boys?
Josh (Edit- wrong username!)