Hi~ all
I wanna hear your opinion about my new tank lighting system.
I am considering only metal halide combination.
I go to work in daytime,and came back about 7 PM. so I decide when I am
not home, use 65K or 10K (not decided yet) and when I am back home,
use 14K AC or pheonix bulb. From using 65K or 10K, I expect the growth of
coral and From 14K, I expect the good coloration and looking good to my eyes
(cause 65K looks like yellow to my eyes).
So I am thinking Lumenarc 1ea and PFO DE pendant. I have PFOs and will
buy Lumenarc.
Here is my future tank. upper view(?)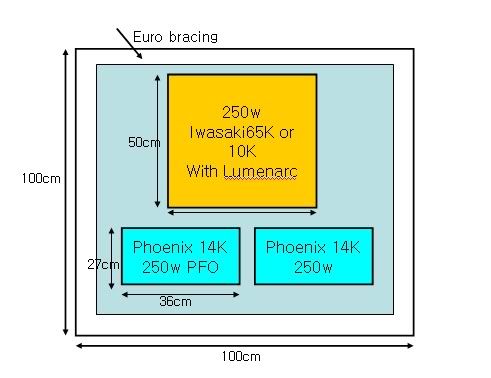 PFOs are front side and lumenarc is back side. My tank Spec will be 100cm x 100cm x 50cm(LxWxH)
The lengh may be a little longer 110cm
The time schedule is...
65K ->8hours (11AM~7PM)
2ea 14K -> 4~5hours (7PM~11PM,65K off)
How about your Opinion?
One lumenarc is enough? or add one? like this
Thanks in advance~